Tourism presents a wide range of career choices. In tourism, you'll find jobs that offer a fun and flexible lifestyle, or fields that provide stability and career progression. Whatever path you choose, you'll find lifelong learning and long-term opportunity. And you'll experience all the amazing things this province has to offer. Tourism is all about working with people and helping them have an exceptional experience.
Tourism Careers
Working in tourism means different things to different people. For some, it means flexible, part-time and seasonal jobs. For others, tourism means a full-time position and a rewarding career.
Saskatchewan has an impressive wealth of tourism resources, ranging from nearly 100,000 lakes and limitless opportunities for outdoor recreation, to an enviable parks system of two national parks, 36 provincial parks and almost 80 regional parks, to signature attractions that tell the stories of Saskatchewan's history, culture and people.
Year round, communities throughout the province – large and small, urban and rural – host a flurry of activities, events and celebrations. Festivals, national and international sports championships, and large conferences put Saskatchewan on the map as a place that knows how to host a successful, memorable event.
Tourism is an export industry, injecting $723 million in export dollars annually to the local economy and stimulating growth throughout the province.
Saskatchewan's tourism economy shows travel expenditures of $2.17 billion in 2019, and more than 11.8 million visits were made to and within the province.
A vibrant tourism sector committed to product and service excellence reflects a positive image for a destination and contributes to the success of other businesses. Saskatchewan has approximately 3,000 organizations offering 4,200 tourism products and services. Tourism businesses and activities provide employment to 71,100 Saskatchewan residents, more than 11 percent of the working population. As well, tourism encourages entrepreneurship – 95 per cent of tourism and tourism-related businesses are small- or medium-sized companies, many of which are independently owned and operated.
Work in tourism in Saskatchewan
Explore tourism careers in Saskatchewan is Tourism Saskatchewan's online resource for teachers and students.
Benefits of working in tourism
What does a career in tourism look like?
Career quiz
For teachers: tourism related toolkits, resources, and activities
For students: careers available in tourism, secondary and post-secondary programs, and other resources
Your call to adventure starts now!
Explore tourism careers in Saskatchewan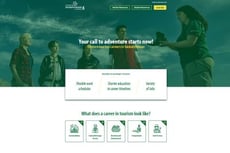 Tourism careers videos
Tourism Saskatchewan Industry Communications is Tourism Saskatchewan's YouTube Channel for tourism industry visual resources, including tourism careers, training, professional development, and business development.
Click Subscribe to get the latest videos, including Tourism Careers.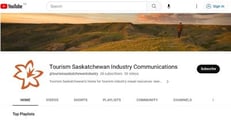 Where to start
Industries and Jobs
Get information on opportunities, tourism job descriptions and career profiles
Learn more>>
Starting a Career
Get tips and information about finding work, follow stories, take the Career Quiz
Learn more>>
Building Your Career
Find tourism training, support, professional development, certification, apprenticeship, post-secondary programs, Ready to Work job readiness and career training
Learn more>>