Order the 2023 Tourism Saskatchewan guides and maps and make them available to your guests and customers.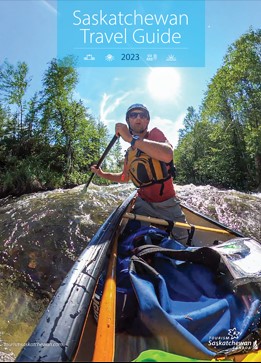 The 2023 Saskatchewan Travel Guide is available to display and share with visitors.

Order FREE bulk quantities of the guide by completing the Bulk Order Form and emailing it to bulkorders@tourismsask.com. The refreshed 88-page guide is organized under four new travel zones: Living Skies & Badlands, Prairie Life & City Lights, Unlimited Lakes & Parkland, and Northern Lights & Waterways.

Stories contain in-depth, detailed information, along with helpful tips, side trips, and QR codes that take readers to corresponding online content.

Double-page travel zone conceptual maps feature main cities, communities and highways, along with all provincial, regional, and national parks. An extensive index lists the contact information/websites for businesses, attractions, and operators included in the guide.

The 2023 Saskatchewan Fishing & Hunting Map and 2021-2023 Official Saskatchewan Road Map are also available to order.