Introduction to Heritage Interpreter introduces you to the traits and skill sets useful for an interpreter. This course shows you how you can use your prior experience to form the foundation to relating compelling stories to your audience.
Introduction to Storytelling
Course Overview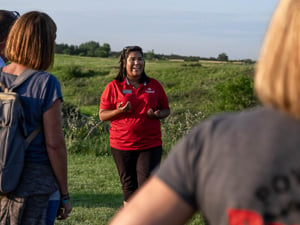 The Introduction to Storytelling Course assists operators in creating meaningful and memorable experiences for their visitors.
This course will help participants become master storytellers. They will learn to use their knowledge and first-hand experience to share stories so visitors can relate on a personal level. Upon successful completion of this course, participants receive a certificate for their records.
Who should take the course?
This is an introductory course designed for staff and volunteers who present information about natural, cultural or historical heritage.
The course is intended for individuals with new or limited experience in designing and delivering interpretive content.
This course will help those who are responsible for conducting guided tours, talks, presentations, living history, activity programs and special events. It will also help those who develop interpretive exhibits, displays and similar media.
Course Objectives
After completing the Introduction to Storytelling, you will better able to:
Understand and use the process of interpretation and storytelling
Communicate with adult learners
Research your topic
Use interpretive and storytelling tools
Plan and present your program
Evaluate your program
Present yourself as a professional
Understand the role of storytelling in tourism
Evaluation
Participants are provided with opportunities to practice and demonstrate the skills and techniques learned.
Course Duration
This course is delivered over three eight-hour days, for a total of 24 hours of instruction.
Registration
Contact Tourism Saskatchewan Workforce Development:
(306) 933-5900
Toll-free 1-800-331-1529
training@tourismsask.com