Industry Performance
The Tourism Trends Report presents a review of key indicators that summarize the health of Saskatchewan's tourism industry. The report contains information about Saskatchewan-US border crossings, international air travel, hotel occupancy and average daily rates, tourism employment, average gasoline prices, discretionary spending habits, and average exchange rates for selected countries. Information is updated on a quarterly basis.
Click on the links below to download quarterly and annual Tourism Trends PDFs.
Note
:
U.S. air arrivals was excluded from international air arrivals numbers in Tourism Trends reports prior to 2022.
Historical Industry Performance
The following table provides a summary of Saskatchewan's tourism industry performance from 2018-2021. The table includes a sparkline graph, which provides a quick visual of the highest and lowest points of data. The "recovery gap" column demonstrates how far 2021 indicators are from full pandemic recovery (i.e., 2019 levels).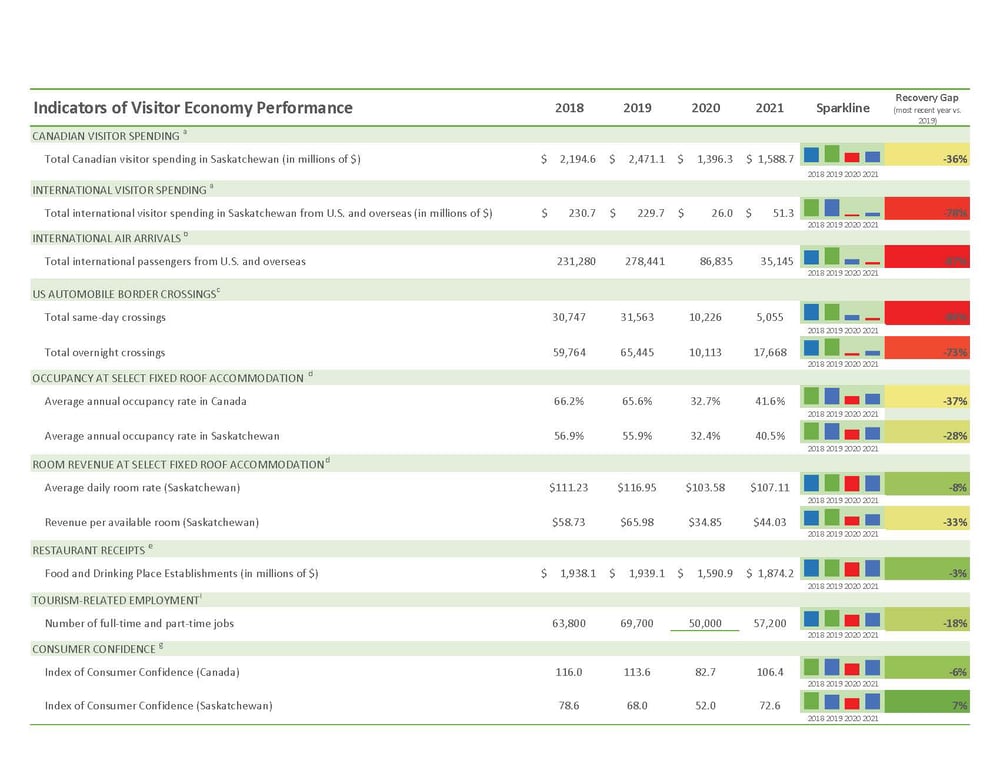 Notes on data interpretation
a Visitor spending data is released by Statistics Canada and then modelled by Destination Canada to provide more details using credit card and debit card data. Spending data for 2021 is based on Statistics Canada preliminary indicators and may be updated when final indicators are released.
bIATA Global Agency Pro (GAP: Represents actual airline tickets to Saskatchewan sold within the reporting period. GAP captures approximately 90 per cent of the world's travel agency airline transactions and should be used as an indicator only.
c Statistics Canada, reports of entries and re-entries from the Canada Border Services Agency: Represents the volume of U.S. residents entering Canada through U.S. land ports in automobiles licensed in the United States during the reporting period. Data exclude travellers who cross the border using a NEXUS card.
d STR, Inc.: Figures represent a sample of hotel rooms in the province and should be used as an indicator only. Republication or re-use of this data without the express written permission of STR is strictly prohibited.
e Monthly survey of food services and drinking places, Statistics Canada, Table 21-10-0019-01 (seasonally adjusted): Reports the total dollars spent on food services and drinking places in Saskatchewan.
f Statistics Canada, Labour Force Survey: Includes full- and part-time employment in tourism-related sub-sectors: accommodation, air and ground transportation, travel and reservation services, arts, culture and sport, recreation, amusement and gaming, food and beverage services, and select retailers.
g Conference Board of Canada, Index of Consumer Confidence: Measures consumers' levels of optimism regarding current economic conditions. The index is benchmarked to 2014 = 100. An indicator above 100 signals a boost in the consumers' confidence towards the future economic situation. Consequently, they may save less and spend more on major purchases. Values below 100 indicate a pessimistic attitude towards future developments in the economy, possibly resulting in a tendency to save more and consume less.
Tourism Employment Tracker
Tourism Saskatchewan uses data from the Statistics Canada Labour Force Survey to track tourism-related employment in the province. Data is updated monthly.
Net Promoter Score
High satisfaction with travel experiences is critical to boosting visitor spending, encouraging longer stays and ensuring repeat visits. Word-of-mouth advocacy, either through face-to-face or online conversations, is fundamental to attracting visitors to Saskatchewan.

Net Promoter Score® (NPS), developed by Frederick Reichheld and Bain & Company in 2002, is a metric that can be used to measure the intention to recommend a travel destination to friends and family. It is also an indicator of overall satisfaction with travel or customer experiences. Satisfied guests who are eager to recommend a destination are more likely to be return visitors. They spend more money while vacationing and influence new visits through their referrals.

Tourism Saskatchewan encourages participation in the NPS initiative. If you are interested in introducing the NPS survey at your business, contact Tourism Saskatchewan's research branch at jeannette.lye@tourismsask.com.
Learn more about NPS here (blog post).